Essential Oil-Inspired Nutritional Supplements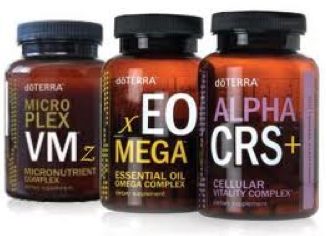 A2Z Chewables –  a cutting edge product has been specially formulated for the junior in your life, to help build their delicate immune system, while supporting healthy energy levels without the use of stimulants as well as maintaining proper bone and teeth health and overall health and wellness. A2Z Chewable tablets are a great way for juniors to gain that daily nutrition that is needed in their early development stages of life, and encouraging habits of taking a daily multi-vitamin supplement throughout their life, thus maintaining a robust and healthy immune system.
Alpha CRS+ Cellular Vitality Complex – a proprietary formula combining potent levels of natural botanical extracts that support healthy cell proliferation and lifespan with important metabolic factors of cellular energy to help you live younger, longer. Alpha CRS+ is formulated to be used daily with xEO Mega and Microplex VMz® as a comprehensive dietary supplement foundation for a lifetime of vitality and wellness.
DDR Prime – a proprietary blend of Certified Pure Therapeutic Grade essential oils formulated to support healthy cellular response, repair, and regeneration. As we age, cellular renewal can be slow or be compromised by oxidative damage to cellular DNA. The essential oils in DDR Prime provide antioxidant protection and support a healthy response to cellular stressors.
xEO Omega Omega Complex –a proprietary blend of Certified Pure Therapeutic Grade essential oils and marine and land-sourced omega fatty acids, which help support healthy joint, cardiovascular, and brain health, support healthy immune function, and have been shown to help mediate healthy inflammatory responses in cells. A single daily dose of xEO Mega provides 1000 milligrams of marine lipids with 340 mg of EPA and 240 mg of DHA and a blend of plant-sourced essential fatty acids. xEO Mega also includes 800 IU of natural vitamin D, 60 IU of natural vitamin E, and 1 mg of pure astaxanthin, a powerful antioxidant carotenoid harvested from microalgae. The bioavailability of the xEO Mega formula is enhanced through a nanosomal lipid assimilation system.
GX Assist – a proprietary combination of Certified Pure Therapeutic Grade essential oils with anti-microbial properties – Oregano, Melalueca, Lemon, Lemongrass, Peppermint, and Thyme – and Caprylic Acid that help support a healthy digestive tract by creating an unfriendly environment for potentially harmful pathogens that can disrupt digestive immunities and cause digestive upset.
IQ Mega – takes the fishy taste out of fish oil with the fresh orange flavor of Wild Orange CPTG essential oil. This great tasting and easy-to-swallow omega supplement provides 1,000 mg of concentrated, pure fish oil per serving. IQ Mega contains essential nutrients EPA and DHA to support healthy brain, cardiovascular, immune, and joint function. IQ Mega is formulated to be used daily with A2Z Chewable.
Microplex VMz Food Nutrient Complex –an all-natural, whole-food formula of bioavailable vitamins and minerals that are deficient in our modern diets. The formula includes a balanced blend of essential antioxidant vitamins A, C, and E, and an energy complex of B vitamins presented in a patented glycoprotein matrix. It also contains food-derived minerals of calcium, magnesium, and zinc and trace minerals for optimal bone and metabolic health. It contains a botanical blend of Peppermint, Ginger, and Caraway to calm the stomach for those who may have experienced stomach upset with other vitamin and mineral products. It is encapsulated using sodium lauryl sulfate-free vegetable capsules, does not contain wheat or dairy products, and does not include any animal products.
Mito2Max – a proprietary formula of standardized plant extracts and metabolic cofactors of cellular energy. Mito2Max supports healthy mitochondrial function and aerobic capacity, and improves stamina naturally without the use of harmful stimulants. Use Mito2Max as a healthy long-term alternative to caffeinated drinks and supplements for increased energy and vitality.
On Guard Protecting Throat Drops – With all-natural organic cane juice and organic brown rice syrup, these drops help defend against pathogenic microbes of the mouth and throat, support fixed and mobile immune function, and can help calm and soothe dry, scratchy throats.
PB Assist+ Probiotic Defense Formula –a proprietary blend of pre-biotic fiber and six strains of probiotic microorganisms in a unique double-layer vegetable capsule delivering 5 billion CFUs of active probiotic cultures and soluble pre-biotic FOS (fructo-oligosaccharides) that encourages culture adhesion and growth. The time-release double-capsule delivery system protects sensitive probiotic cultures from stomach acid. It supports healthy digestive functions and immunities and is safe for all the family.
Slim & Sassy TrimShakes –convenient and delicious shake mixes providing the essential nutrients of a healthy meal with only 125 calories per serving. Used as a meal replacement for one or more meals each day, TrimShake can help you lose unwanted fat stores through calorie restriction and regular exercise. TrimShake also includes a patented weight-loss ingredient EssentraTrim that has been demonstrated to help with managing the stress hormone cortisol associated with fat storage. TrimShake blends well with water or milk for a low-calorie, low-glycemic, high-fiber satisfying meal alternative with 16 grams of protein per serving.
TerraZyme Digestive Enzyme Complex- a proprietary blend of active wholefood enzymes that help with digestion and supporting mineral cofactors that are often deficient in cooked, processed, and preservative-laden foods. TerraZyme supports the body's constant production of enzymes critical for healthy biochemical functions throughout the body including healthy digestion of food nutrients (proteins, fats, complex carbohydrates, sugars and fiber) and cellular metabolism of nutrients to energy.
Women's Bone Nutrient Lifetime Complex – a blend of vitamins and minerals that are essential for bone health including vitamins C and D, calcium, magnesium and other trace minerals. After reaching a maximum bone density in their late twenties, women's bone mass begins to decline and bones become more brittle, accelerating more in women whose diets do not include optimal levels of bone nutrients and whose hormones are out of balance. Not managing harmful estrogen metabolites can also accelerate bone degeneration or wasting. Bone Nutrient Lifetime Complex can be used by women and men of all ages as a dietary supplement.
Women's Phytoestrogen Lifetime Complex – a blend of natural plant extracts that support hormone balance throughout the different phases of a woman's life, and includes a standardized soy extract with genistein (a powerful phytoestrogen that binds with estrogen receptors in cells), and the natural phytoestrogens in pomegranate. It also includes a concentrated extract of flaxseed lignans to help manage potentially harmful metabolites that are produced when estrogen is metabolized in the liver. Balancing hormones and managing harmful metabolites by eating a healthy diet rich in phytoestrogens and other essential nutrients, exercising, and managing weight can help reduce uncomfortable symptoms associated with PMS and the transition through menopause and supports healthy bones, heart, breast tissue, and other body structures and functions as a woman ages.
Zendocrine Detoxification Complex- a proprietary blend of 14 active whole-food extracts in a patented enzyme delivery system that supports healthy cleaning and filtering functions of the liver, kidneys, colon, lungs and skin.
To order or learn more click here